Dhvanit Thaker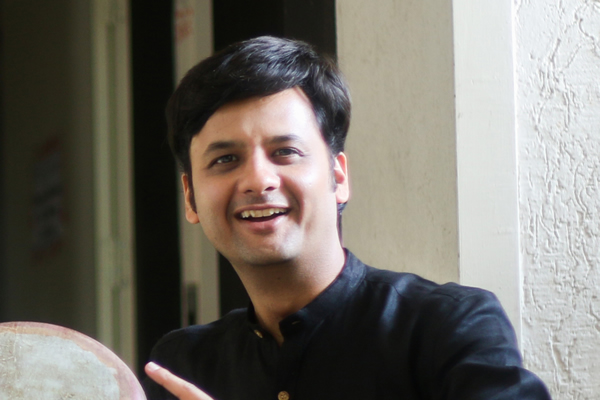 RJ
Honorary Founder, Motivator, Creative Visualiser
Experience : 12 years as the Drive Time RJ in Radio Mirchi Ahmedabad.
He has recieved the most prestigious awards in Radio Industry - The Best RJ (Gujarati) India Radio Forum Awards for 4 years in 2008, 2009 2012 and 2014
He has recieved the Best Show India Radio Forum Award for his morning show (Guruwar Gurjari and Hello Amdavad). He did his hattrick with the third consecutive award in the same category from 2010 till 2012.
He is making his acting debut in the lead role with an urban Gujarati Film titled 'Vitamin She'. He has written and sung songs for this film as well. The film is scheduled to get released in 2016.
He has been the State Emissary for the Election Commission of India for Gujarat State Vidhansabha Election 2012. He was the first Emissary to have spread the message for voter awareness with a zest through his strong presence amongst the voters of Gujarat. He was the Radio Ambassador for the Loksabha Elections 2014 as well. He had sung a song called 'Garvo Gujarati Tene Re Kahiye Je Mat Na Mulya Ne Jaane Re' based on the tune of a very famous Gujarati Song Vaishnav Jan. He made a contemporary 'Kasam Rap Song' which appealed to the youth to pledge for voting. He visited numerous colleges and other educational institutions as well as various social organisations for voter awareness programmes. He participated in various social functions, rallies and other events to make the audience aware about their voting rights and educated them how to use EVMs. He featured in video quickies for voter awareness and popularised them on social media network. He utilised his strong social media presence and his newspaper columns to reach out to maximum people for the same.
He has written columns in magazines and newspapers.
A popular column was 'DhvanitSab Jaanta Hai' in Ahmedabad Mirror every Saturday.
He has written movie reviews in Sandesh. Currently he regularly writes thrice a week for NavGujarat Samay in  a column called 'JustDhvanit'.
He is the most sought after celebrity host/ show anchor from Gujarat. He was the host for the World Gujarati Conference 2008 'Chalo Gujarat' at NJ, USA.
He was invited again for the World Gujarati Conference 2012 which saw a presence of all prominent Gujaratis from all over the world and over 1 Lac NRGs in the audience over a period of 3 days.
He was the host for the Village India Experience Gujarat 2009 at Leicester,UK. He was the anchor for the India Day Parade, NJ, USA in August 2010.
He has been the host for The Times of India Food Guide Awards since its inception in Gujarat. He has anchored the award ceremony 5 times.
He had launched his first music album called 'Majja Ni Life' in 2009. It comprises of 8 contemporary feel Gujarati songs capturing different moods of life that strikes a chord with every individual.
He has sung songs for Gujarati Movies 'Vitamin She', 'Kevi Reete Jaish', 'Better Half' , 'Mohan Na Monkeys' and 'Kyare Jaishu Pataya'!
He has sung many jingles for major brands in Gujarat. To name a few - Gujarat Tourism Corporation Limited, Saankal 8, Havmor, Tirupati and Ankur.
He is the Brand Ambassador for Cox and Kings Travels, Gujarat since 4 consecutive years.
He was the Brand Ambassador for Starz Club, Ahmedabad.
He endorses Club O7, Ahmedabad.